Absorbable Medical PGA Pdo Surgical Suture
Product Detail
Product Tags
Absorbable Medical PGA Pdo Surgical Suture
Absorbable animal originated suture twisted multifilament, beige color.
Obtained from the thin intestine serous layer of a healthy bovine free of BSE and aphtose fever.
Because it is an animal originated material, the tissue reactivity is relatively moderated.
Absorbed by fagositosis in approximately 65 days.
The thread keeps its tensile strength between 7 and 14 days, the patientis factors can make such tensile strength times vary.
Color code: Yellow label.
Frequently used in tissues that have easy healing and that do not require permanent artificial support.
 1) Technical Details of FosMedic Suture
•  Sterilization: Gamma Rediation
•  Shelf Life:3 years
•  USP Sizes available: 6/0, 5/0. 4/0, 3/0. 2/0, 1/0, 1, 2,3#
•  Suture length: 35--150cm
2) Fosmedic surgical Needles
• Needle type: taper cutting, reverse cutting, taper point etc.
• Grade of needle - AISI 420
• Type: drilled, rolled and common.
• Curve:
            1/2circle (8mm-60mm)
            3/8circle (8mm-60mm)
            5/8circle (8mm-60mm)
            Straight Cutting (30mm-90mm)
3) Point shape:
taper cutting, curved reverse cutting, curved cutting, round bodied, blunt, spatular curved and conventional.
4) Sterilization method:
Gamma radiation
(can be used directly without being re-sterilized before use)
5) Fosmedic catgut Suture Length:

45cm,  60cm,   75cm,   150cm
6) Suture Size:
USP10/0,   8/0, 7/0,  6/0,  5/0,  4/0,  3/0, 2/0, 1/0 ,   1#,  2#  
SURGICAL SUTURE SPECIFICATION

Type

Item Name

Absorbable Surgical Suture

Chromic Catgut

Plain Catgut

Polyglycolic Acid (PGA)

Rapid Polyglactine 910 (PGAR)

Polyglactine 910 (PGLA 910)

Polydioxanone (PDO PDX)

Non-absorbable Surgical Suture

Silk (Braided)

Polyester (Braided)

Nylon (Monofilament)

Polypropylene (Monofilament)

Thread Lenght

45cm,75cm, 100cm,125cm,150cm,60cm,70cm,90cm, customized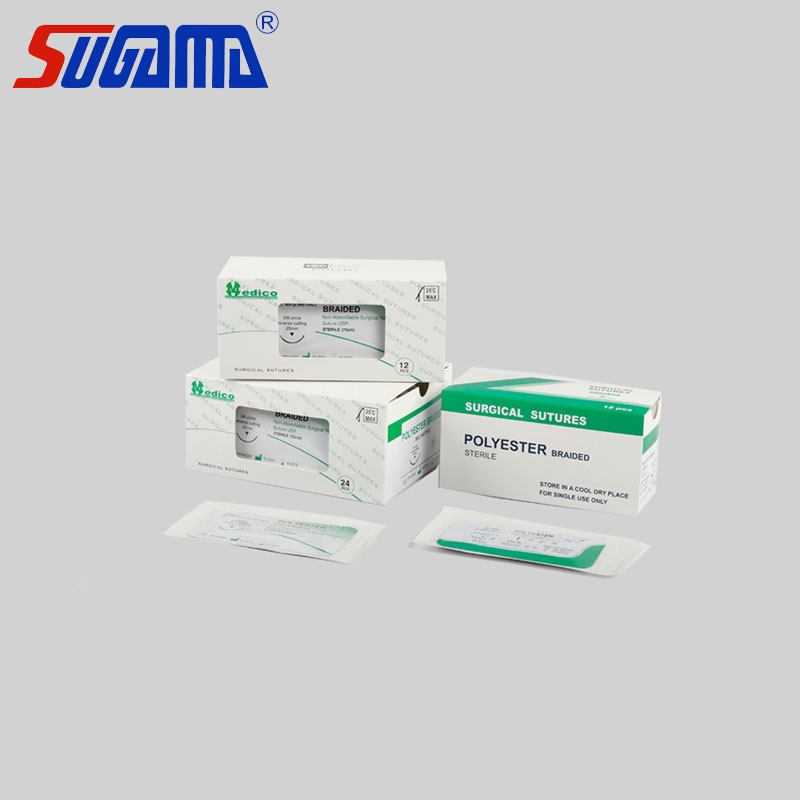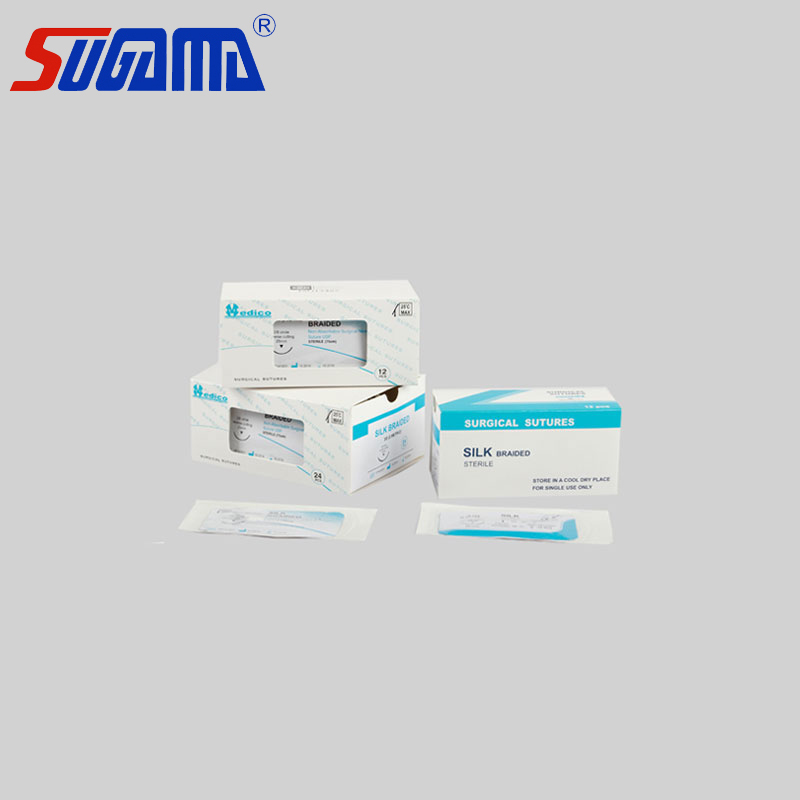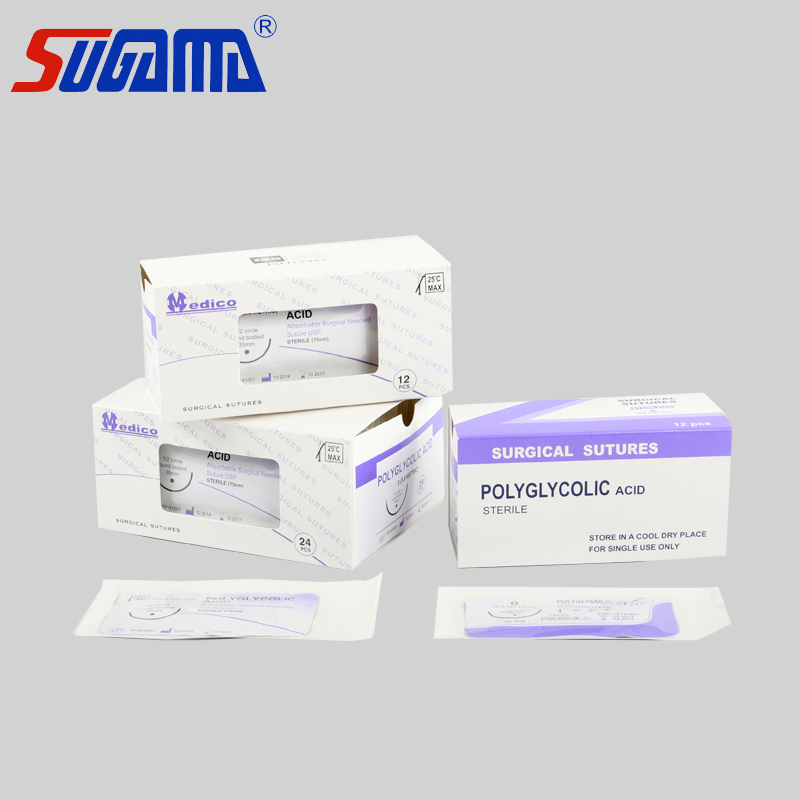 Our company is located in Jiangsu Province, China.Super Union/SUGAMA is a professional supplier of medical product development,covering thousand of products in the medical field.We have our own factory that specialized in manufacturing gauze,cotton,non woven products.All kinds of plasters,bandages,tapes and the other medical products.
As a professional manufacturer and supplier of bandages, our products have gained a certain popularity in the Middle East, South America, Africa and other regions. Our customers have a high degree of satisfaction with our products and a high repurchase rate. Our products have been sold to all over the world, such as the United States, Britain, France, Brazil, Morocco and so on.
SUGAMA has been adhering to the principle of good faith management and customer first service philosophy, we will use our products based on the safety of the customers in the first place, so the company has been expanding in a leading position in the medical industry SUMAGA has always attached great importance to innovation at the same time, we have a professional team responsible for developing new products, this is also the company each year to maintain rapid growth trend Employees are positive and positive. The reason is that the company is people-oriented and takes care of every employee, and employees have a strong sense of identity.Finally, the company progresses together with the employees.
---
---
Write your message here and send it to us