100% Remarkable Quality fiberglass orthopedic casting tape
Product Detail
Product Tags
Product Description:
Material:fiberglass/polyester
Color:red,blue,yellow,pink,green,purple,etc
Size:5cmx4yards,7.5cmx4yards,10cmx4yards,12.5cmx4yards,15cmx4yards
Character & Advantage:
1) Simple operation: Room temperature operation, short time, good molding feature.
2) High hardness & light weight
20 times hard than plaster bandage; light material and use less than plaster bandage;
Its weight is plasters 1/5 and its width is plasters 1/3,which could reduce wound burden.
3) lacunary (many holes structure) for excellent ventilation
Unique knitted net structure make sure good air ventilation and prevent skin damp and hot & pruritus.
4) Rapid ossification (concretion)
It ossifies in 3-5 minutes after open the package and could bear weight after 20 minutes,
But plaster bandage need 24 hours for full concretion.
5) Excellent X-ray penetration
Good x-ray penetration ability makes X-ray photo clearly without remove the bandage, but plaster bandage need remove to make x-ray inspection.
6) Good waterproofing quality
The moisture -absorbed percent is 85% less than plaster bandage, Even the patient touch the water situation, it still could keep dry in the injury position.
7) Convenient operation & mold easily
8) Comfortable & safe to patient/doctor
Material is friendly to operator and it wont become tension after concretion.
9) Wide application
10) Environment friendly
Material are environmental friendly, which could not produce polluted gas after inflammation.
Item

Size

Packing

Carton size

Orthopedic Casting Tape

5cmx4yards

10pcs/box,16boxes/ctn

55.5x49x44cm

7.5cmx4yards

10pcs/box,12boxes/ctn

55.5x49x44cm

10cmx4yards

10pcs/box,10boxes/ctn

55.5x49x44cm

15cmx4yards

10pcs/box,8boxes/ctn

55.5x49x44cm

20cmx4yards

10pcs/box,8boxes/ctn

55.5x49x44cm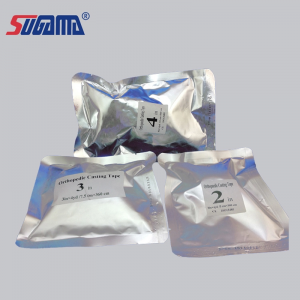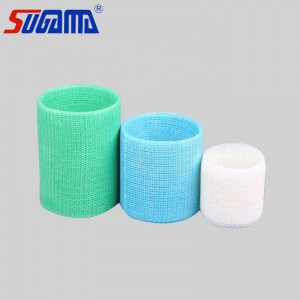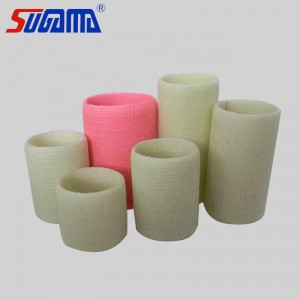 Our company is located in Jiangsu Province, China.Super Union/SUGAMA is a professional supplier of medical product development,covering thousand of products in the medical field.We have our own factory that specialized in manufacturing gauze,cotton,non woven products.All kinds of plasters,bandages,tapes and the other medical products.
As a professional manufacturer and supplier of bandages, our products have gained a certain popularity in the Middle East, South America, Africa and other regions. Our customers have a high degree of satisfaction with our products and a high repurchase rate. Our products have been sold to all over the world, such as the United States, Britain, France, Brazil, Morocco and so on.
SUGAMA has been adhering to the principle of good faith management and customer first service philosophy, we will use our products based on the safety of the customers in the first place, so the company has been expanding in a leading position in the medical industry SUMAGA has always attached great importance to innovation at the same time, we have a professional team responsible for developing new products, this is also the company each year to maintain rapid growth trend Employees are positive and positive. The reason is that the company is people-oriented and takes care of every employee, and employees have a strong sense of identity.Finally, the company progresses together with the employees.
---
---
Write your message here and send it to us